My home studio is in my room.My PC running Cubase VST 5.1.1 is an AMD Athlon XP 1600+ ,with 256MB of DDR Ram ,WD 40GB ,WD 80GB ,RME Digi 24/96 ,and Miro Studio DC10+ for digital video.
My current gear
Mixer : Behringer MX2004.
Synths : Alesis :Quadrasynth ,QSR module ,DM5 drum module with triggers.Yamaha :An1x, SY55.
Roland :D110
Emu Proteus 1,and of course Audity 2000
Other gear :Alesis 3630 compressor,Alesis M-EQ230 graphic EQ.
Guitars :Washburn EA 20M Festival Series 12 string electro acoustic
Ibanez GAX-70
This is my "aucadious" room.No "cat" has managed to handle the variety of "HARMONICS" that exists here...
Taking a break from work

What a room ,eh ?

This is where I create my music.Thanks to Radeon VE graphic adaptor,2 screens are displaying a stunning 2048x1024 resolution @ 85 hz refresh rate.

I remember that ,when I was about to buy a 2 screen card I had doubts...now I wonder how I was manage it with one screen so far !!!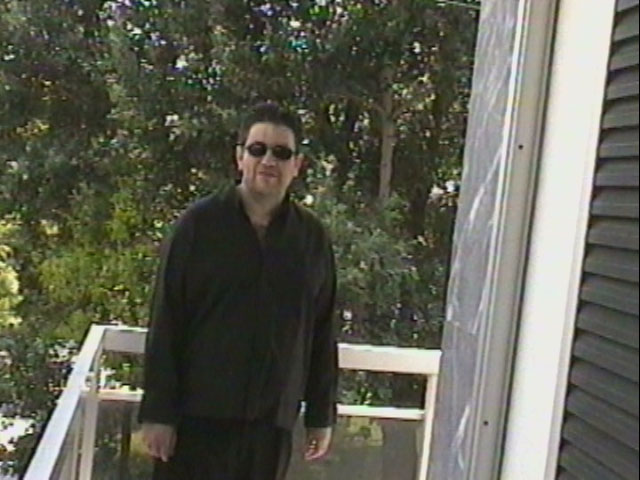 C'est moi,folks !!!

Favorites
Here's a list of some of my favorite movies:

13th floor ,The Game ,The Cube
Here's a list of some of my favorite music:
If you haven't heard any of this ,do yourself the favor to do so !!!

Tangerine Dream,Vangelis,Kitaro
Wim Mertens,Philip Glass ,Steve Reich
and rock..ons !!!